These are awards recognised by the writing & blogging community! A nod and a wink of appreciation for your blog and its content!
Kreativ blogger Award!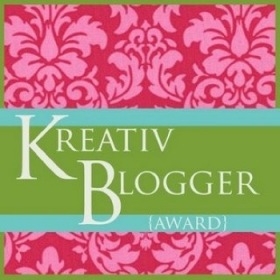 I cannot tell you how amazed I was when I received a message on my mobile phone yesterday, informing me that I had been nominated along with six other amazing writers by R.S.Guthrie an extremely talented and wonderful author – not to mention a great friend. This award is purely a symbolic one, hold off the red carpet for now peeps! My moment has not quite arrived yet…However, the fact that I was nominated by such a talented author totally made my day. Firstly, that he thought of me, and secondly that he thought my blog was worthy of the award. WOW, words escaped me and I was truly humbled. Just being nominated is an exceptionally great honour indeed and amongst such great superstars also! Rob is a dear friend and I thank him truly from the bottom of my heart for nominating me, it was the most wonderful surprise. Rob is the founder of RABMAD for more info pop over to http://RABMAD.com/authors as well as author of "Black beast" and "Lost" both of which I have read and certainly expect to see both books on the best sellers list this year! His support to Indie authors far and wide deserves an award in itself, he tirelessly promotes and encourages many…
Now for the award! Apparently I have to nominate six bloggers and also divulge ten things about myself that most people are unaware of! So here goes the following things you won't know about me:
1.) I am a great kick boxer and I do a mean roundhouse kick!!!
2.) I am a huge fan of Dickens, I have read all of his works and I just cannot get enough of the great Dickens! I am also a fan of Jane Austen too.
3.)I had my belly button pierced when I turned 30-yearrs-old! I felt like doing something that made me feel like I was still in my 20s! I still where the diamond stud in my belly button today…
4.)I am crazy about sausages (Pork sausages that is!) I love them and can never resist them if they are put in front of me, they are my weakness.
5.) I am currently teaching my 3-year-old daughter to write in advance of going to school, and I am proud to say she is doing great and can now write her own name!! "Proud mummy grins from ear-to-ear" lol
6.) My pet hate is bad manners, I really do dislike bad mannered people, a please or thank you costs absolutely nothing "Its free" people pushing in front of you in a queue drives me crazy! Shoppers nearly knocking you over in the mall and for what? excuse me, thank you and please are very important words in my book. Please don't be rude to people if it's not necessary thank you!!!
7.) I find it hard to say "NO" it's always been a problem for me, I don't know why, but it has! I nearly always say yes to everything, can you do this? can you help me, will you do this? Even if I barely have time to complete things off my own daily list of things to do, which is often, I always say yes! Is there a name for that I wonder? Mmm
8.) I am crazy about Marmite "Love it or hate it" sorry couldn't resist that! I have it on my toast every day and I also put a spoonful in my home made gravy yummy!
9.)I make the best vanilla cheese cake this side of Birmingham, many a person have asked me for my secret recipe the answer is always the same "No way hose" I shall pass the recipe down to my daughter one day!
10.) I Love period property, the older the better, My very first property was a 16th century grd 11 listed Georgian townhouse which I partially renovated myself in Shakespeare county! I still own it today as I could not part with it, I now rent it out and was lucky enough to secure lovely long term tenants!!
And here are my six Nominees for the Kreative Blogger award, sadly I could only choose six, there are many fantastic blogs out there that are just as deserving!
Mike Wells author of "Wild child" and many more: If you have never visited his blog then I urge you to pop it on your to do list, it's engaging, advising, topical, you can learn so much from Mike who teaches writing at Oxford. He loves to engage with his readers and followers and will always take the time to answer your questions. His blog is one of my favorites and I pop over there often. Mike was also one of the first people to follow me on twitter. His books are unputdownable. http://thegreenwater.com @Mikewellsauthor
Dax.M.Tucker author of "The leaf Catcher" very talented: Dax is an exceptionally clever and intelligent writer, I am a massive fan and I am fortunate to be able to call him my friend, he has been so supportive along my writing journey. I love his website which offers the viewer a great insight into his work and mind! I love that he thinks totally different "out side the box" as they say, his writing style reminds me of the greats such as shakespeare and Dante. His website is a very engaging one and one that will have you going back for more time after time.I read his book and I have stated many times "The leaf catcher" will be one of those unique books that will remain with me for ever. Dax is probably one of the most intelligent writers of the modern day!http://theleafcatcher.blogspot.com @Daxmtucker
3.) R.S.Guthrie Author of "Black beast" and the sequel "Lost" Again as stated above I have read both of these amazing books! Rob is a great friend and I have been fortunate to connect with him on twitter, always at hand if you need advise super supportive and super great. Another super clever writer that I love to read! He never fails to disappoint, he delivers every time like a ticking time bomb, keeping his readers on the edge of there seat, Rob is a massive favorite of mine and I am a huge fan of his fantastic blog, its clever, informative, engaging, funny, I have learnt a fair bit from following Robs blog for that I am eternally grateful, if you are not following this amazing guy then I really suggest you do you won't regret it he has a massive heart… I will always go out of my way for Rob a truly genuine guy. http://robonwriting.com
4.) Alan McDermott author of "Gray Justice" and great friend, Alan is one of those delightfully surprising writers you just want more and more, I cannot wait for his sequel. Always supportive and encouraging. Alan is an incredible author and natural blogger, I love his author interviews and guest blogs. Alan is another incredibly clever writer, his book deserves much recognition. I love his blogs they are so honest, well written and interesting also.http://jambalian.blogspot.com @Jambalian
5)Cinta Garcia Del Rosa: Super friend and amazing new blogger on the block a pure natural. Cinta and I have much in common, we connected almost immediately and have never looked back! Love this girl she is the best!!! How she has not written a book yet I will never know? I have read her short stories and her blogs, and she could give many writers out there a run for there money she has a natural t for writing that I expect to see amongst the published one day!! Cinta was a natural nominee as far as I was concerned (have you seen her wonderful blog) Wow I cannot believe she is new, to read them you would think she had been blogging a long time. I recommend you follow this lovely lady who makes everyone's day! http://cintascorner.wordpress.com @Austenite78
Marilou George: A lovely lady and fabulous blogger and supportive to many of us indie authors, l love her  website, so interesting and full of information about new books and authors, its engaging and draws you in. I thought when I first visited this blog what an attractive site, and the content was equally attractive. I would recommend you pop along and pay this wonderful site a visit! I just love it.http://confessionsofreader.blogspot.com @MarilouGeorge
Well those are my six wonderful nominees, all deserving all amazing in different ways, follow these great people if you are not already…I have thoroughly enjoyed doing this it's been great! There are so many more wonderful people I could mention but I am restricted to just six sadly, so if your not mentioned above, you are not forgotten I promise!
Today I got a very nice surprise when I logged onto my Twitter account. I was so delighted that I had been given the Sunshine Award by Cinta Garcia a fellow blogger and writer. To know that you have being awarded for making people smile is a wonderful thing indeed. I have to say this was a lovely surprise.. I am so very humbled and honoured. Thank you so much Cinta…
Please visit Cinta's blog which is amazing at http://cintascorner.wordpress.com
The "rules" of the award are to answer the following ten questions:
1. Favorite colour – My favorite colour is red. I have always loved this colour and it features a lot through out my house.
2. Favorite Animal – I have three, dogs, the big cat family and horses.
3. Favorite Number – I have to be honest I have never given much thought as to whether I have a special number or not! However, as I have to choose it would have to be 10. Purely on the basis that it is a nice rounded number…
4. Favorite non-alcoholic drink – I love tea, tea and more tea please!!!
5. Facebook or Twitter – Twitter, because I have met so many wonderful people, authors, artists and made many supportive friends.
6. My passion – My daughter first & foremost, running a close second is writing. I need both of them as much as I need food to live!!
7. Getting or Giving Presents – Definitely giving, there is no greater feeling than seeing the wondrous look on someones face after receiving a gift from you.
8. Favorite Pattern – The pattern a stream makes when it's bubbling over a brook.
9. Favorite Day of the Week – Saturday.
10. Favorite Flower – Roses, Peannie, Lilys
I'm passing this award to the following Blogs because they have all made me smile at one time or another. They are all amazing blogs and definitely worth a visit.
SUNSHINE AWARD
The fadderly:  http://thefadderly.blogspot.com because he always makes me smile.
Kevin Hanrahan:  http://khanrahan.com because his blog is so inspirational, the stories he shares about four legged war hero's (dogs) are amazing. Kevin's blog often makes me smile.
Lisa Stull:  http://lmstull.com Another fabulous blog that has made me smile.
John D Ayers: http://johndayers.wordpress.com A great blog that has brought a big smile to my face often!
Beautiful Blogger Award…
I was pleasantly surprised today to discover that I had been nominated for this fabulous award by the wonderful and very talented writer Cinta Garcia otherwise known in the twitter-verse as @Austenite78 this is one incredible lady, so if you are not following her
then you really should be as you are truly missing out on a special follow.
The rules state I have to thank the person who nominated me… So thank you so much Cinta for nominating me for this wonderful award. You can find Cinta's amazing blog right here by following the link: http://cintascorner.weebly.com
Now for the final part of the award acceptance, I have to share seven facts about myself So here they are as follows:
1.) I like classical music, but I only listen to it when I am alone!
2.) I had my belly button pierced for my 30th birthday a few years ago and still have the same gold ring in today…
3.) I am a huge fan of singers and song writers Josh Kumra being one for his amazing echoing voice that stops me in my tracks every time, and Gary Barlow being two for his amazing talents at just about everything he touches. I was so impressed with the diamond jubilee concert that he organized for the Queen, he is an amazing person.
4.) One of my favourite books of all time is "Wuthering Height's" by Emily Bronte this is such a heart breaking love story if  you have not read this amazing book I urge you to add it to your must read list.
5.) My all time favorite movie is "Pride & Prejudice" starring the wonderful Colin Firth!
6.) I love to bake desserts and I am known for my home made cheese cakes and chocolate cakes…
7.) I am a trained kick boxer and have many belts which I am very proud of…
So now you know a few more things about me, here is the best part as I get to nominate seven beautiful blogs for this ward. My nominees
are as follows:
Lisa Stull             http://lmstull.com/
KD Rush:             http://kdrush.net/one-lovely-blog-award/
The Fadderly:  http://thefadderly.blogspot.com/
Kevin Hanrahan http://khanrahan.com/
B Witzenhausen http://belindawitzenhausen.com/
Alan McDermott http://jambalian.blogspot.com/
Gregory Stenson http://gregorystenson.blogspot.com/
All these blogs are amazing and I follow them all, when you get a moment they really are worth checking out…
Follow me